An Unparalleled Design Experience
custom-made | adj; (of suits, dresses) made according to the specifications of an individual buyer
1 of 1 Design

The experience begins with a private consultation during which Jean-Ralph Thurin designs your custom-made wedding gown. Time is spent discussing your vision, style, fit and fabrication.

Expert Craftsmanship

Once designed, a muslin of your wedding dress is made in order to create the pattern

Measurements are expertly taken and a tailored fitting experience focused on emphasizing your positive attributes ensure a custom-made fit, so you look your best on your wedding day.

Custom-Made for You

Your wedding gown is then constructed with only the most luxurious bridal fabrics, accented with exquisite accessories and custom details.
Say Yes to the Sketch
Your wedding dress should be a reflection of your unique beauty. Our 'Say Yes to the Sketch' event entails the process of creating your very own dream dress, by starting a simple conversation and ending with a beautiful sketch!
Each newly engaged bride will be given the opportunity to meet one-on-one with Jean-Ralph Thurin to design the perfect wedding dress: the dress of their dreams! Each bride will be immersed in a unique bridal experience from the experts. 
Schedule Consultation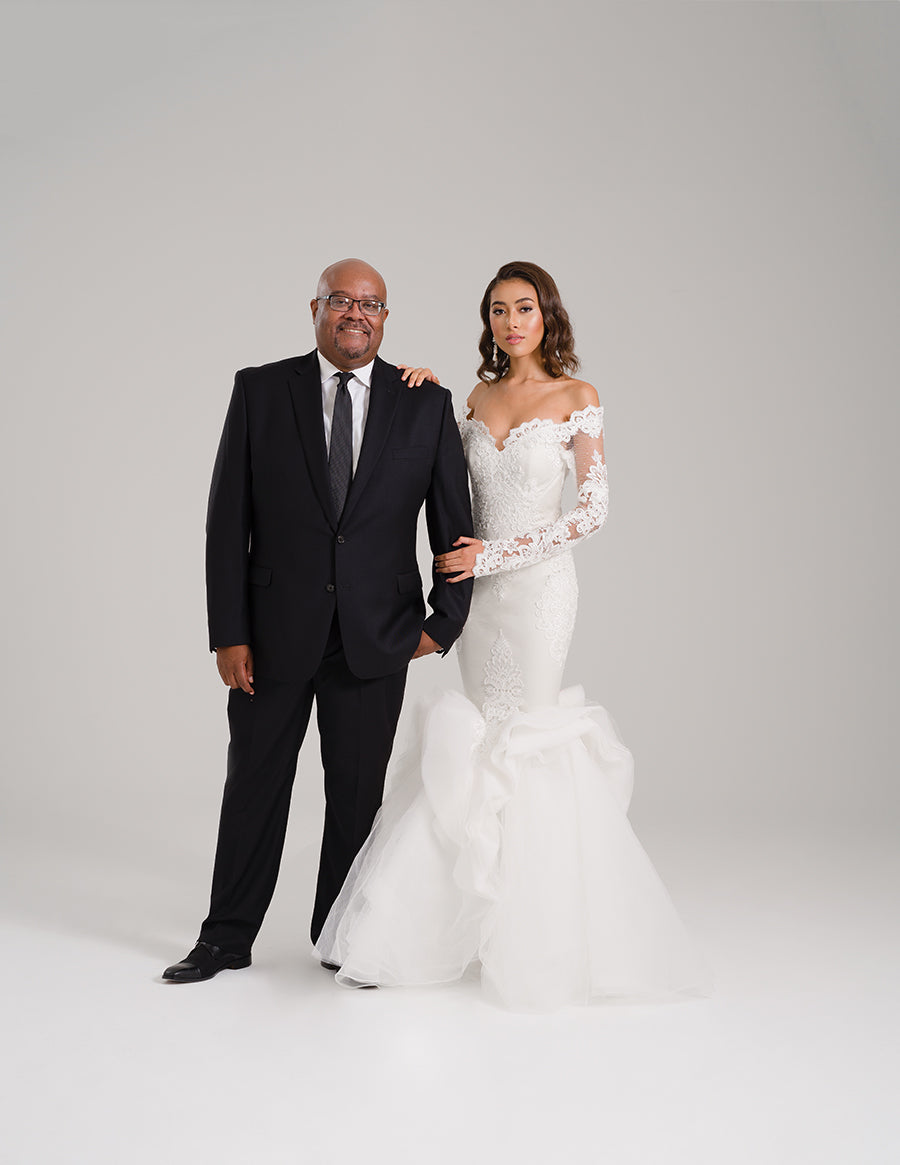 Jean-Ralph Thurin, Chief Designer
A graduate of the prestigious Parsons School of Design, Jean-Ralph Thurin became enthralled by the fashion history of top Haute Couture Houses of Dior, Givenchy and Oscar De La Renta. Growing up, Jean-Ralph learned to sew by watching his grandmother. He was fascinated by her ability to make clothes with little more than fabric remnants and thread. In high school, although he was not yet formally trained, Jean-Ralph followed in his grandmother's footsteps as he fulfilled the multiple requests from classmates to make their prom dresses and so began his career in fashion.

As his love for couture grew, Jean-Ralph learned to hone his skill and mastered the art of sewing. Each garment reflects the care of his craftsmanship and is intricately and beautifully finished. Paying attention to every detail.  His vision is to give every bride what she seeks on her wedding day - to feel exquisitely beautiful and self-assured because her wedding dress reflects who she is in that moment! "Every bride is different, and I've learned to listen, really listen to each and every one of them", says Jean-Ralph.  By paying close attention, and through the process of collaboration, Jean-Ralph Thurin captures your essence and designs and creates a wedding gown that is authentically you!  
Client Experiences
There was truly nothing more extraordinary than seeing your wedding dress go from a sketch to real life. They brought all the drama and all the bling when creating this masterpiece!

Victoria

I had an amazing experience! My custom dress was more than I could have managed. It was 3 looks in 1 and the staff gave me tips and prepared me to take my dress to my destination wedding site. Always made me feel welcomed. HIGHLY RECOMMEND!
Carvelle

The entire process was a dream because I was able to create my dress with their help from the smallest detail. We picked fabric, stones, everything! My wedding dress was a dream. I loved it all!
Norma